Nukubati is the perfect location to escape and connect with the natural beauty of Fiji and the Great Sea Reef
Welcome to Nukubati Island, where you'll experience stunning sunsets from the comfort of your traditionally designed bure, just meters away from the pristine beach.
Our accommodations are thoughtfully designed with your comfort and relaxation in mind. Embracing a simple island style, our four beachfront suites and three beachfront honeymoon villas exude elegance and charm. Louvred windows allow natural light to dance within, accompanied by the refreshing sea breeze, creating a light and airy atmosphere that complements the island's beauty.
At Nukubati, we believe in a sustainable future, which is why our rooms are designed to be carbon negative. We forgo air-conditioning, opting instead for nature's cooling embrace. Unplug from the outside world as our rooms are free from televisions and phones, allowing you to fully immerse yourself in the breathtaking surroundings.
Disconnect to reconnect with the untouched natural beauty of Nukubati Island and the wonders of the Great Sea Reef.
Beachfront Villas: Your Private Oasis
Indulge in the ultimate beachfront experience at Nukubati Island with our luxurious Beachfront Villas. Nestled among coconut palms, these private bures offer stunning ocean views and a serene ambiance for a memorable escape.
Unparalleled Privacy: Each freestanding bure boasts a lounge area, spacious bathroom, and a large private verandah. Find solace in the tranquility of your surroundings, where the gentle sea breeze and mesmerizing waves create a serene backdrop.
Thoughtful Comforts: Furnished with a king-size bed and thoughtful amenities, your comfort is our priority. Experience the soothing ambiance and connect with nature in this tranquil sanctuary.
Spectacular Views: Immerse yourself in breathtaking vistas from your expansive verandah, overlooking the tranquil waters of the South Pacific.
Authentic Island Living: Embrace the island lifestyle with the authentic touch of a large private verandah, where you can unwind and immerse yourself in the serene surroundings.
Unwind and Relax: Enjoy complimentary daily laundry service and a range of toiletries for your convenience. Your time at our Beachfront Villas promises cherished memories in the making.
Beachfront Suites: Your Tropical Haven
Discover the charm of our Beachfront Suites, situated in pairs along the shoreline, embraced by lush tropical gardens and swaying coconut palms.
Tranquil Setting: Each suite offers a spacious lounge room, a spacious king-size bedroom, and a large bathroom with twin vanities and refreshing showers. Find your sanctuary in the serenity of our beachside abodes.
Stunning Views: Step onto your front verandah and take in the breathtaking beachfront views, where the azure waters of the South Pacific meet the golden sands. Retreat to your private rear patio for moments of relaxation and reflection.
Thoughtful Amenities: Our Beachfront Suites are thoughtfully furnished with lounge chairs, a coffee table, a writing desk, a dressing table, and an open wardrobe for your convenience. A plush queen-size bed promises restful nights, ensuring you wake up refreshed and ready to embrace each day.
Amenities for Your Comfort: Enjoy a full range of toiletries, a hairdryer, coffee and teas, and a well-stocked mini bar. Daily maid service ensures that your needs are taken care of during your stay.
Embrace the island spirit and experience the perfect blend of comfort and natural beauty at our Beachfront Suites. Reconnect with nature as the gentle sea breeze whispers through the palms, creating an ambiance of tranquility and relaxation.
Find your tropical haven at Nukubati Island, where the pristine beauty of Fiji awaits you.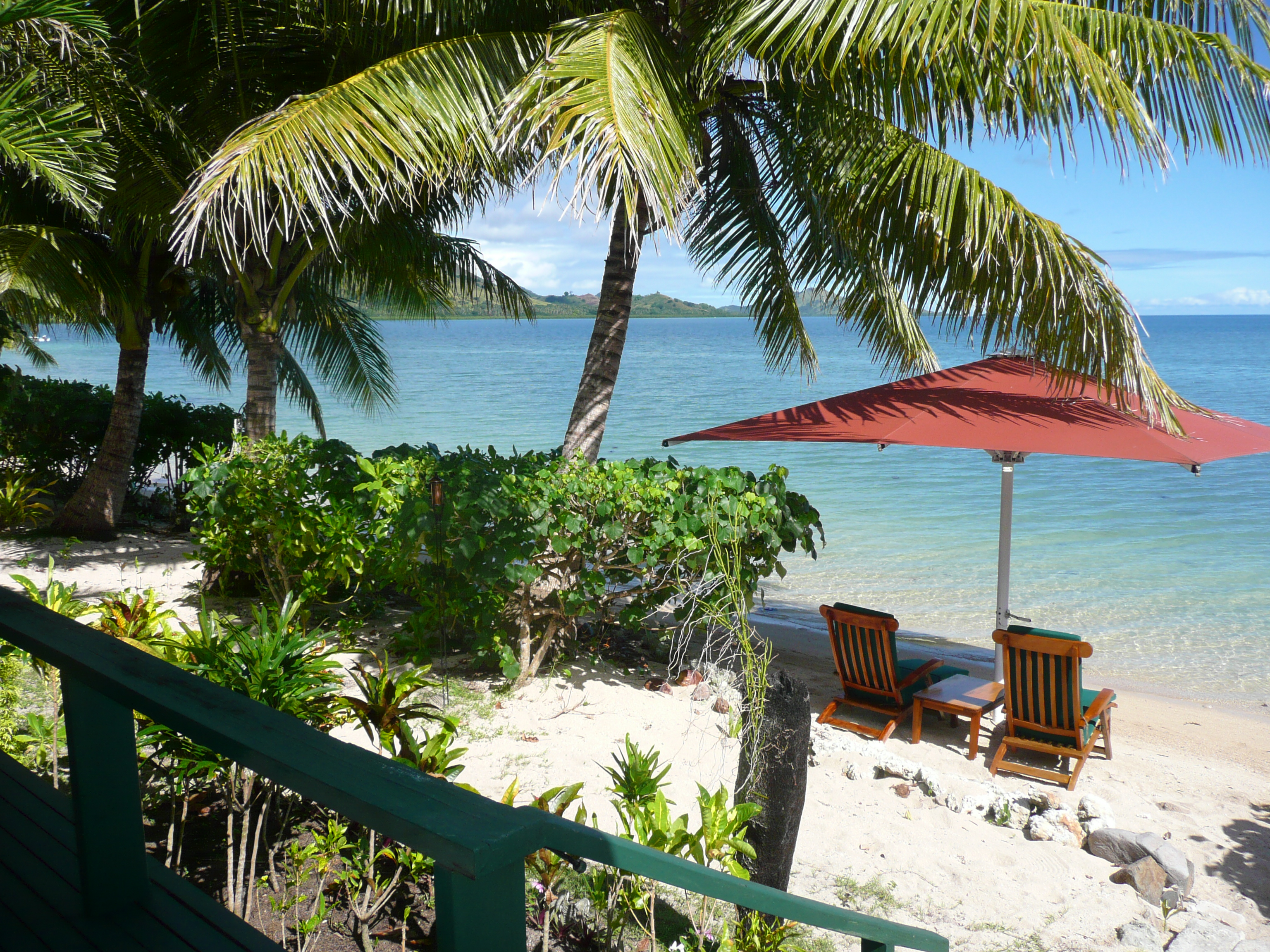 INDULGE IN THE FLAVOURS OF THE SOUTH PACIFIC
From Sea to Table, Experience Fresh Organic Cuisine
Dining at Nukubati Island is a true culinary experience. Our specialty is seafood, freshly caught off the resort, and served alongside tropical fruits and vegetables organically grown in our own gardens. Our commitment to sustainability extends to our food as well, with a focus on locally sourced ingredients, herbs, and spices that celebrate the vibrant flavors of the South Pacific.
For over 30 years, Nukubati Island has built a reputation for superb cuisine, featuring traditional South Pacific recipes with a modern twist. All meals, morning and afternoon teas are complimentary, and we cater to our guests' individual dietary requirements, including vegetarian and non-seafood meals.
In addition to our culinary offerings, Nukubati Island boasts an extensive wine cellar, stocked with premium Australian and New Zealand wines. Relax and enjoy a drink at the bar in the Pavilion, or take advantage of our bar service, available throughout the island.
Dive into the Great Sea Reef with Nukubati